Friends that rock
I'm a little late in posting about this, but look what my good friend
KatyaR
gave me for Christmas: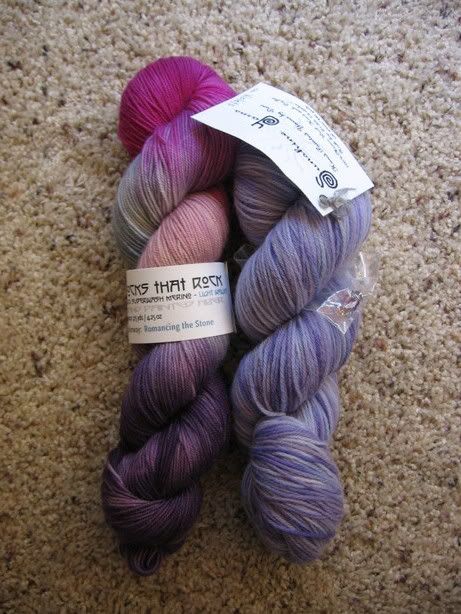 On the left is
Socks That Rock
in colorway Romancing the Stone, and on the right is
Sunshine Yarns
in colorway Violets. If I didn't already have a gazillion projects to complete in the next couple of months, I would totally be casting on with one of these right now. The colors are awesome and I love them. Thank you, Katya. You rock!
I can also officially show you the finished socks for my cousin: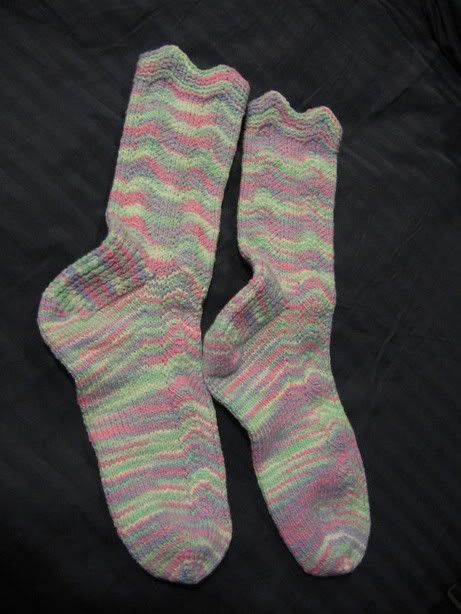 Pattern is the Broadripple Socks on Knitty and the yarn is Cascade Fixation in color 9490. I love this yarn. Normally cotton yarns start hurting my hands because they just don't have any "give" but not this stuff. That little bit of elastic (1.7%) makes a huge difference and I would gladly work with this yarn again. I realize because of the angle of the picture, the socks look like they are 2 different sizes, but I promise they are the same.
Now I'm working on 2 pairs of socks for the boy for his birthday in February. One will be Spiderman socks and the other Batman. I'm not at all sure I can pull this off, but I'm going to try. Hopefully I will have some pictures for you soon. And speaking of the boy, he's sick again today with vomiting and diarrhea. Hopefully it's just that 24 hour bug that he managed to miss right after Christmas, but sick seems to be the resounding theme around our house these days. At the very least it's some kind of record for us anyway. I can't wait for this bug season to end.